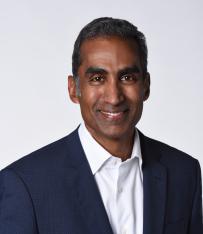 Bob Pragada
Entrepreneur
Bob Pragada brings more than 30 years of global business leadership and military experience to Jacobs, including 17 years with the company and nine years as a Civil Engineer Corps and Seabees Officer with the U.S. Navy.
Last Updated: October 27, 2023
Bob Pragada is the President and CEO of Jacobs, a leading global provider of technical, professional, and construction services. With over 30 years of experience in the industry, Pragada has held various leadership roles throughout his career, including serving as the President of Jacobs' Aerospace, Technology, and Nuclear division and leading the company's global operations.
Pragada's journey to becoming CEO of Jacobs began in his home country of India, where he earned a degree in mechanical engineering from Bangalore University. After completing his education, Pragada moved to the United States, where he started his career at CH2M Hill, a company that later merged with Jacobs. Over the years, he has held various positions at the company, including serving as the President of Jacobs' Asia-Pacific region and leading the company's operations in Australia.
Pragada's extensive experience in the industry has made him a respected leader and industry expert. He is passionate about using technology and innovation to solve some of the world's most pressing challenges, including climate change and infrastructure development. Under his leadership, Jacobs has continued to grow and expand its services, focusing on sustainable solutions and developing a diverse and inclusive workforce.
One of Pragada's key priorities is creating a culture of collaboration and inclusivity within Jacobs. He believes that diversity and inclusion are essential to the company's success and actively works to create opportunities for underrepresented groups within the industry. This includes initiatives such as the Jacobs Future of Work Taskforce, which focuses on preparing the company's workforce for the changing nature of work and creating opportunities for all employees.
Pragada is also a strong advocate for corporate social responsibility and believes that companies have a responsibility to use their expertise and resources to make a positive impact on the world. Jacobs has committed to several sustainability initiatives under his leadership, including setting science-based emissions reduction targets and launching the Jacobs Climate Action Plan.
In addition to his role at Jacobs, Pragada is also involved in several industry organizations and initiatives. He is a member of the Business Roundtable and the US-India Strategic Partnership Forum, and serves on the Board of Directors for the American Council on Germany.
Overall, Bob Pragada's leadership and vision have helped position Jacobs as a global leader in the industry. His commitment to innovation, collaboration, and sustainability has not only benefited the company but has also made a positive impact on the communities and industries that Jacobs serves.